Xinyinhe Aluminum Co., Ltd. Die Casting Production Line is put into operation; Merrison supplies Die Castings to Tesla...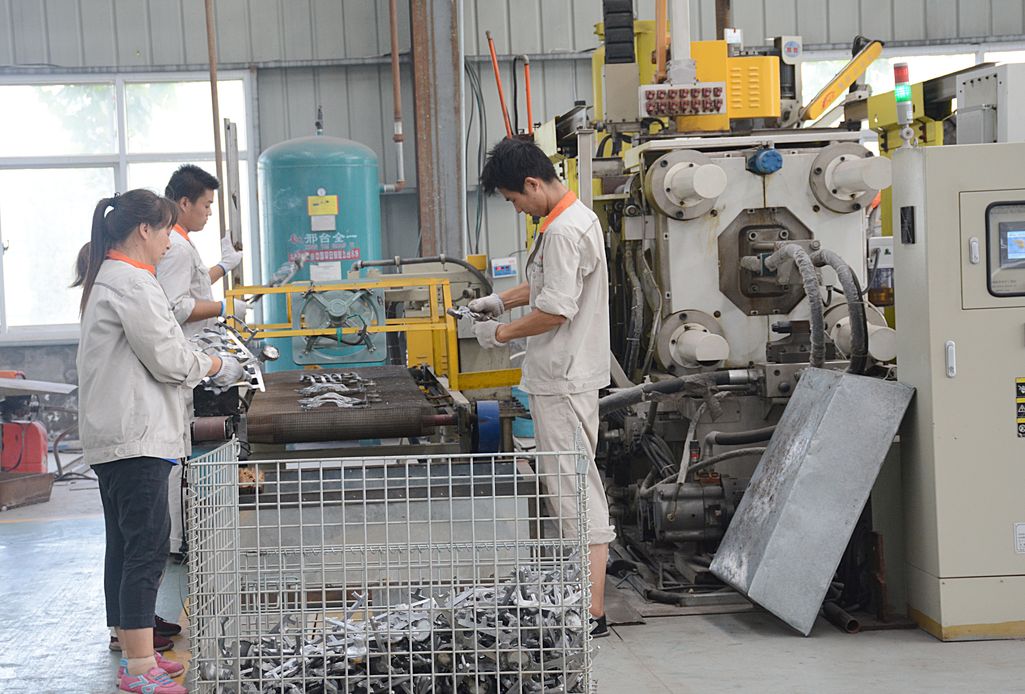 Xinyinhe Aluminum Company Die Casting Production Line put into operation
  Hejin News Media Center reported that Xinyinhe Aluminum Co., Ltd. Die-casting production line has been put into operation. It is reported that since 2017, the company has introduced and implemented the production project of aluminium alloy die castings, and has successfully cooperated with Tianjin Kaiquanda Technology Co., Ltd. At present, there are six die casting production lines, mainly producing civil hardware parts, bicycle parts, new energy automotive aluminum alloy castings and other products.
  Merrison supplies Die Castings to Tesla
  Recently (August 10), Chongqing Daily reported that the main products of Chongqing Dajiang Meilixin Die Casting Co., Ltd. at present include new energy vehicles, 5G communication base station equipment parts and components, all of which are products with high technology content and added value. A batch of newly produced Tesla Battery Control Shells have been packed and ready for shipment to the United States.
  At present, Merrison Die Casting has also undertaken the manufacture of parts and components of Tesla automotive shock absorber and radiator, with a total output of tens of thousands of sets per month, and may also undertake the manufacture of large structural parts of Tesla Automotive in the future. Provide important components for Ericsson, Huawei and other 5G communication base stations and other products. The company develops and utilizes multi-stage continuous radiation heating smelting technology to improve the energy efficiency of high precision and complex die casting products smelting process.
  The trial production of Tongyu Metal Hub Phase II Project in September
  Recently (August 10), we learned from Shanxi Yuncheng Economic and Technological Development Zone that Shanxi Tongyu Metal Material Science and Technology Co., Ltd. is carrying out an orderly construction project of the second phase technological renovation project of aluminium alloy automobile hub, which is expected to be put into trial operation in September. Tongyu Metal Phase II project invested 600 million yuan, mainly to upgrade and renovate the second phase equipment of aluminum alloy automobile hub. After the project reaches production, the annual production capacity will reach 2 million. Tongyu Metal was founded in 2011, mainly engaged in the production and sale of aluminum alloy automobile hub.
  Shanghai Electric Drive Co-operation with Yunnan Copper Die Casting
  Recently, Mr. Gong Jun, Chairman of Shanghai Electric Drive Co., Ltd. and CEO of Ocean Motor Vehicle Group, visited Yunnan Copper Technology Development Co., Ltd. The two sides exchanged in-depth on the application of copper rotor, copper alloy castings and aluminum alloy castings in the field of new energy vehicles. Gong Jun and his delegation also visited the copper rotor production workshop of Yunnan Copper Die Casting Company.
  Established in 2008, Shanghai Electric Drive Co., Ltd. has been devoting itself to the research and development of electric drive system for energy-saving and new energy vehicles. Its main products are applied to various new energy-driven passenger cars, commercial vehicles and special vehicles. Die-casting copper rotor has been the favorite object of new energy automotive drive motor because of its high efficiency, small size and good heat dissipation. The two sides discussed the application of Diecasting copper rotor in 48V BSG motor and decided to cooperate in this field.
  Tongling Vientiane Automobile Parts Phase II Project started
  Recently, Tongling Wanxiang Automobile Parts Co., Ltd. started the second phase of its automobile parts project in Tongling, Anhui Province. The project invested 120 million yuan. The main new plant was 3,600 square meters, with an annual output of 20,000 tons of lost foam casting production line and four CNC flexible machining production lines. Upon completion of the project, 300,000 gearbox cases and 150,000 other parts can be produced annually. Vientiane Automobile was established in 2002. It mainly produces various kinds of automobiles, agricultural machinery, construction machinery gearbox housing, top cover and other products.
  Shanxi Juhua Aluminum-based New Material Project Launched
  On August 11, according to the business press, Shanxi Juhua New Materials Technology Co., Ltd. successfully put into operation 30,000 tons of new aluminum-based materials project on July 31. The project invests 520 million yuan and is located in Hejin Aluminum Industrial Park. It is divided into three stages. It mainly produces more than 40 varieties of eight series, such as activated alumina, silicon-aluminium composite materials, aluminium-based catalysts and carriers. The first stage of the project invests 200 million yuan, and the annual production capacity is over 10,000 tons. At present, four workshops have met the production conditions. The active alumina production line has been put into production on line and is under research and development. The interior and exterior decoration is being carried out on the test line. Shanxi Juhua is engaged in research and development, production and sales of high-end alumina, aluminium hydroxide and its series products.
  China's automobile production in the first July was 16.1 million
  According to the data released by the China Automobile Industry Association, in July 2018, automobile production and sales completed 2.043 million vehicles and 1.889 million vehicles respectively, down 0.7% and 4% respectively from the same period last year; in January-July, automobile production and sales completed 16.1 million vehicles and 15.955 million vehicles respectively, and the production and sales increased by 3.5% and 4.3% respectively from the same period last year. From January to July, the production and sales of new energy vehicles reached 540,000 and 496,000 respectively, up 85% and 97.1% respectively from the same period last year. From January to July, motorcycle production and sales totaled 9.309 million vehicles and 9.325 million vehicles, a decrease of 6.1% and 6% over the same period last year.
  Tianjin FAW Toyota New Energy Vehicle Project Approved
  A few days ago, the Tianjin Economic Development Zone Management Committee was informed that the new energy vehicle project of Tianjin FAW Toyota Teda Factory has been approved for construction. The project invested 1.762 billion yuan and the construction scale is 58721 square meters. The project will use the existing Teda front line to carry out technical renovation. It is proposed to renovate the existing five major process plants and production lines and increase the annual production capacity of 120,000 new energy vehicles.